When you know how to cook better, you eat better.
Sign up and receive five secrets chefs use to cook better!
By submitting your email address you agree to receiving delicious emails from the Domestic Wonder.
Let's talk.
Many of us did not learn how to cook from anyone, and today's food world has become VERY confusing with lots of people telling us what to eat.
The simple fact is when you cook more real food your body gets the fuel it needs to feel better.
But...if you don't enjoy cooking, think good-for-you food is gross and are unaware of your eating motivations, you'll avoid the kitchen, and vegetables, at all costs.
So you must cultivate your skills and desire to cook and get cooking, because a crisper drawer full of rotting vegetables does not a meal make.
When you hone your culinary skills and tune into your whole self (mind, body + soul) to discover what your body really craves, you'll discover that cooking can be easy, nourishing, and fun!​
Are these food goals familiar?
overcome anxiety about not being THE perfect cook of healthy meals
stop resorting to take out or frozen food because you're too hungry to cook
learn how to cook basic meals
eat the meals you actually plan
stop wasting food
meal prep for a variety of meals, not the same meal 5x
freedom from following recipes to a tee
cook one meal for a family with different diets
find vegetable dishes you enjoy
eat better without following a diet
ditch the guilt about everything food & body related
reduce emotional emoting
stop self-sabotaging healthy intentions
Than this is the place for you.
Can I change what I cook & eat?
Cooking up a nourishing life is a lifelong journey that's one part strategy and one part mindset.
Repeat, it is a JOURNEY with no destination....it is cultivating a pursuit of pleasure from what we put on our plates and enjoying each step that makes it easier and more enjoyable.
You can work wonders and start eating better and by shifting:
1. How you cook.
How you plan, purchase and prepare meals can make cooking easier, or full of frustration if your skills need a boost. Here you'll:
Level up your cooking game and learn how to cook food that fits your lifestyle confidently, calmly & creatively while reducing food waste.
2. What you cook.
Ingredients are the difference from feeling nourished for hours, or crashing into a ball of fatigue, followed by crazy cravings. Here you'll:
Develop a love for nourishing foods you actually enjoy as you explore what taste and feels good for you.
3. Why you eat.
Your body intuitively knows what it needs but can be overridden by a lifetime of emotional eating and addiction to processed foods. Here you'll:
Get to know what your body really craves and learn to eat intuitively as you align with its guidance.
I am here to empower you with a fresh perspective and skills to match, so you can be a domestic wonder and transform your life one bite and one breath at a time.
Let's get started.
popular posts
learn how to cook & eat intuitively
Sorry, we couldn't find any posts. Please try a different search.
instagram
follow me
Stay in touch on Instagram for stories, posts and more.

contact
get in touch
Interested in collaborating? classes? chatting? I'd love to hear from you.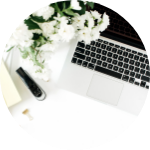 my story
about me
Finding beauty in the messiness of life.